The secret behind Collesi Gin is in the excellence and variety of its ingredients. The purest water from Monte Nerone, the best barley grown in the Collesi estates and an array of botanicals: above all, the precious juniper berries typical of the Apennine Mountains and also, the sweetest strawberries. The botanicals, expertly dosed, are left to infuse in a pure grain alcohol base. The infusion is then diluted with Monte Nerone water and then refrigerated at -15°C for at least 30 hours, filtered, bottled and then left to age in the dark for 4 long months.
Organoleptic characteristics
Collesi Pink Gin unleashes the variety of all the botanicals infused in its preparation, providing a unique sensory experience. A melodious and surprising harmony of accents that evokes the nature of which it is born. It's an alternative gin that intelligently expresses a fusion of Collesi Gin with the deliciousness of strawberries for a taste that's sweet and intense.
Elegantly smooth and fruity, its effect is extraordinarily fresh and dynamic, with both sweet and bitter notes. Served with tonic water in a large wine glass garnished with fresh red fruits, this gin is the perfect aperitif with a splash of character!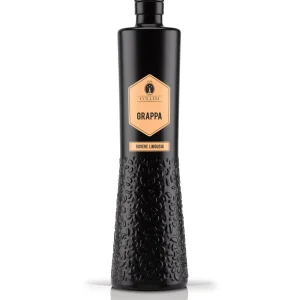 Grappa Barricata legno di Rovere Limousin